15. Updates¶
The appliance retrieves its updates from a download server of KeyIdentity GmbH. An update key is used to authenticate the appliance on the update request.
Note
For this update procedure the appliance needs to access the internet.
If you are running a virtual appliance, the updates are based on the serial number, you entered during installation.
15.1. Automatic Scheduled Updates¶
In the appliance dashboard (https:<LINOTP>:8443) on the tab System → Updates you can specify when the system should look for updates automatically and if it should reboot when the kernel was updated. As kernel updates can happen every time, you can also configure to boot the machine automatically on certain days of the week.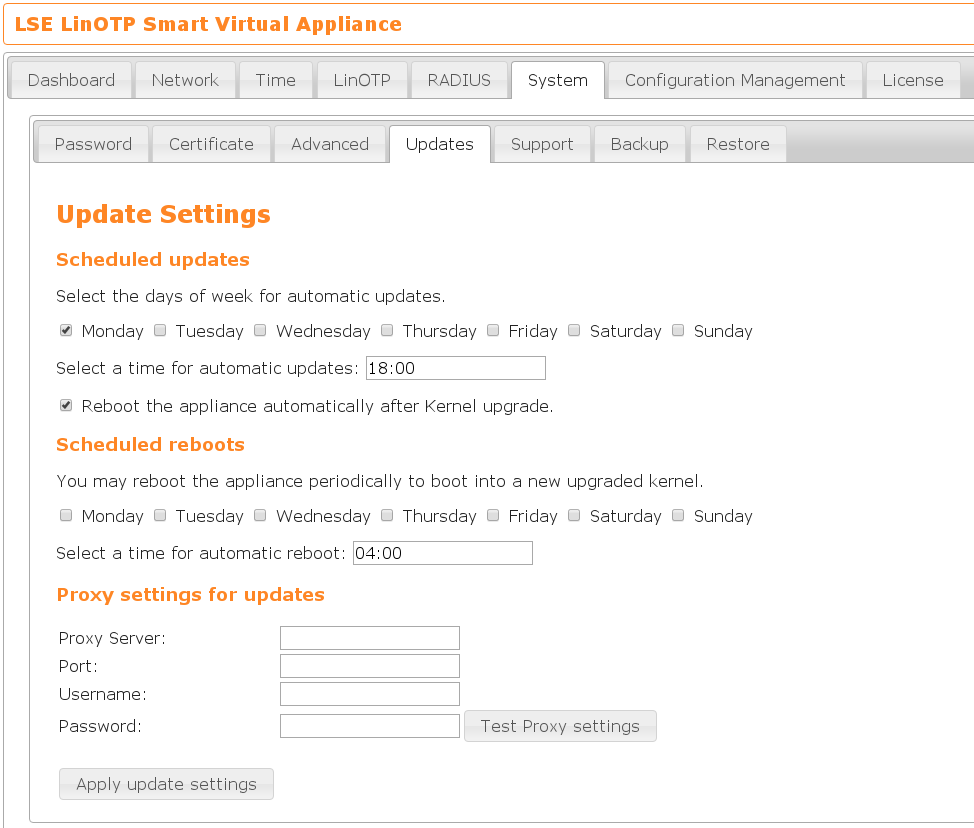 15.2. Manual Updates¶
Alternatively the update can be performed manually e.g. during a maintenance window.
Connect to the SVA via SSH/putty
Perform update via the command

appliance-update.sh
Warning
Please empty the browser cache after the update (e.g. via CTRL+F5). Otherwise strange effects can occur (like missing options) due to the aggressive caching mechanism of recent browser.
Note
We recommend to perform updates on a regular base in order to keep the operating system secure and to benefit from newer versions of LinOTP and the appliance itself.