1.9.

SMS Provider for SMS OTP Tokens / Mobile TANs#

Starting with version 2.2 LinOTP also supports sending one time passwords via SMS. In this case an SMS OTP token needs to be created. Internally this token is a HMAC token. The token object gets a mobile phone number and this token is assigned to the user.
1.9.1.

Overview#
Triggering SMS#
When calling the API /validate/smspin the user is authenticated by the username and OTP PIN. The sending of an SMS with a OTP value is triggered. This OTP value is valid for a configurable amount of time.
Another possibility of triggering SMS is when the user authenticates with username and PIN. When username and PIN are passed to the authentication URL like /validate/check or /validate/simplecheck, the user is rejected, but, if the PIN is correct, the sending of an SMS is triggered.
Note
SMS can be easily used in conjunction with the RADIUS protocol. The user first needs to authenticate at the RADIUS client with username and PIN. The user will be rejected. After that an SMS will be sent to the user. Then the user needs to authenticate with username and PIN+OTP (from the SMS) and the user will be successfully authenticated.
Starting with version 2.6 SMS can also be triggered using the new challenge-response mechanism described in Challenge Response. When using challenge-response only the OTP has to be provided by the user in the second authentication step instead of PIN+OTP.
Configuration#
Starting with LinOTP 2.9 more than one SMS Provider can be configured. The configuration moved from "LinOTP Config" –> "Token Config" –> "SMS OTP Token" to an extra entry "LinOTP Config" –> "Provider Config" –> "SMS Provider Config" where the providers can be created, edited and deleted.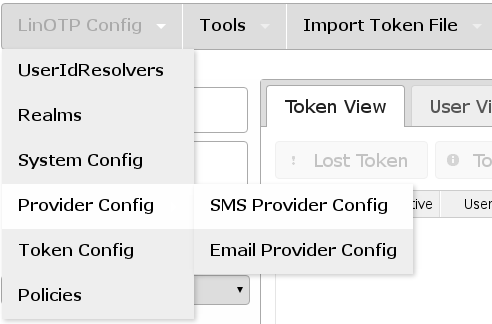 Note
If the system was updated to LinOTP version 2.9+ a SMS Provider previously configured is automatically transfered to the new configuration environment and named "imported_default".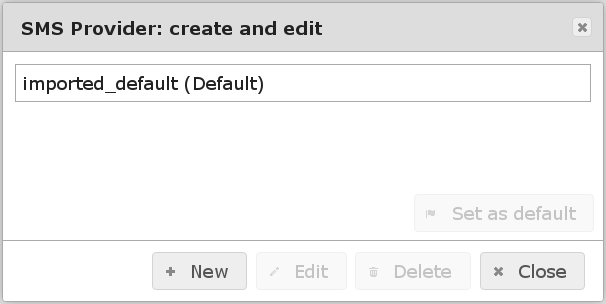 Set up as many SMS Provider as required. Which one will be used to deliver the SMS can be configured by policies. If no policy exists or no existing policy applies the SMS Provider marked as "(Default)" will be used.
Multiple SMS Provider configured#
Policy to choose SMS Provider#
Policy name: this is a unique name of the policy.

Scope: You need to set this to authentication.

Action: sms_provider=<NAME_OF_ONE_OF_THE_CONFIGURED_PROVIDERS>

User: This is a comma separated list of usernames or resolver names. Please see Users in policies.

Realm: Enter the name of the realm.

Client: This is a list of IP addresses or subnets this policy is valid for.
1.9.2.

Configure SMS Provider#

The actual configuration of a SMS Providers: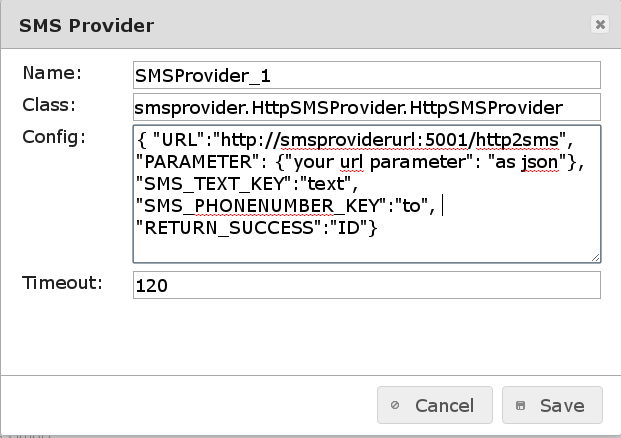 An SMS Provider is a LinOTP module, that defines how SMS are sent.
These four values can be configured in the server configuration:
Name

Name of the SMS Provider as to be used in the policies.

Class

The SMS Provider module to be used for sending SMS. At the moment LinOTP comes with five different kinds of SMS Provider classes:

HttpSMSProvider

SmtpSMSProvider

SMPPSMSProvider

RestSMSProvider

DeviceSMSProvider

Their indidual configuration is described below.

Config

The configuration parameter for the SMS Provider Class.

Timeout

This configuration key holds the time that an OTP value that was sent via SMS is valid. The number is interpreted in seconds. The default value is 120 e.g. 2 minutes. That means that after a user requested a SMS OTP he will be able to use this OTP value within the next 2 minutes. If the SMS arrives later or the user will not use this OTP value within 2 minutes, it will not be valid anymore.
Generic Options#
Some configuration options apply to all four SMS Provider modules in the section "Config":
MSISDN

[optional]

Normalizes phone number to be MSISDN compliant. All characters except digits are removed. A leading prefix (e.g. +) will be preserved.
SUPPRESS_PREFIX

[optional]

Can be used to cut of unwanted leading characters as the + or a country code like +49.
Overview SMS Provider modules#
1.9.3.

SMSProviderConfig#

Depending on the type of the SMS Provider, this configuration key stores different values.